Until now, the imposing beasts have been in school manuals, science documentaries, series and films like the incredible Jurassic World franchise. On May 26, you'll get to interact with them face-to-face, staring into the ferocious eyes of the Jurassic's most hair-raising creatures and meeting adorable baby dinos like Bumpy from Camp Cretaceous. 
Say goodbye to the concrete streets of Atlanta: the Jurassic World journey at Pullman Yards will transport you 66 millions of years back in time, when over 700 species of dinosaurs freely roamed the earth. In between sprawling leaves, you'll spot some of them in all their clubbed tails and golden-eye glory — staring right back at you from the hidden branches. All of the blockbuster's most loved dinos come to life, from the towering Brachiosaurus to the Velociraptor. 
Tickets have just been released: channel your inner paleontologist at this thrilling experience just a few hours away from Jacksonville!
If, just like us, you loved collecting toy dinosaurs and hoped one day to become a paleontologist, your inner child will relish in this journey through Jurassic World. Or perhaps you'd love to treat your kids to an extraordinary experience (though be prepared for non-stop dinosaur talk at home). Jurassic World: The Exhibition is a great experience for kids and adults alike, since both equally stare in awe at the vicious Tyrannosaurus Rex and gasp in cuteness at the baby Parasaurolophus babies in their incubator once they make it to The Creation Lab.
Tons of science goes behind the scenes of Jurassic World, and you'll uncover parts of those prehistoric mysteries at the lab. While baby dinos are reason enough to pay a visit, you might just discover striking facts about the existence of gentle giants. Did you know how geneticists brought the dinosaurs of Jurassic World back from the brink of extinction? It starts with a mosquito lodged in amber for thousands of years… 
Recreate your favorite moments from the Jurassic World blockbuster saga, from Owen Grady (Chris Pratt)'s mastery of independent Velociraptors to the legendary "Welcome to Jurassic Park" '93 introduction which has been hilariously parodied over the years. 
Jurassic World: The Experience lands at Pullman Yards on May 26, and ticket prices start at $21.99 for general admission. After a highly successful run in London last year, the thrilling adventure into prehistoric life is gracing Atlanta's Pullman Yards come spring.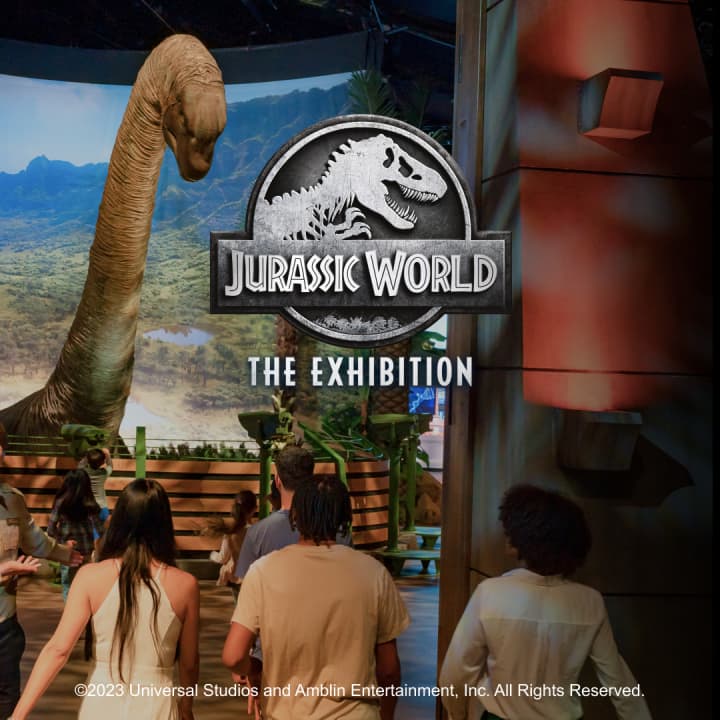 Jurassic World: The Exhibition
---